10th Anniversary Legacy Events Series: Talking 30 Years of Globe Series with CEO Mike Gerbis
February 10th, 2020 / Sustainability
In celebration of the 10th anniversary of the Vancouver Convention Centre's West building, we will be looking back on significant conferences and events held here over the last decade and explore the legacy that they've left behind – from impact to our community to progress in industry sectors and more.
On February 10th, GLOBE 2020, the largest and longest-running sustainable business summit and innovation showcase in North America, will kick off in our West building. GLOBE 2020 is the 30th anniversary of this iconic Vancouver event, which brings together thousands of people and organizations from around the world to form connections that create and accelerate solutions around sustainability and climate change.
We spoke with GLOBE Series CEO, Mike Gerbis, about what to expect at GLOBE 2020, and how the event has evolved over the last thirty years to be more effective and engaging for its attendees.
Can you tell us about your background in sustainability?
I've been in the sustainability field since I graduated from university – so, 30 years - initially in waste reduction, pollution prevention and then more recently in corporate sustainability, climate change and cleantech innovation. I've worked with hundreds of organizations and governments to help them identify the best path forward for reducing their environmental impact and enhancing productivity at the same time. It's very inspiring work.
What is GLOBE Series?
At a high level, GLOBE is an organization with the mission to convene innovators and leaders to accelerate the development of a clean economy. We host a variety of events – large and small - designed to connect organizations, clean technology companies, government, non-profits and other groups, so that we can drive more action, ambition and solutions around issues like climate change.
For example, GLOBE Forum – our longest-standing event, and the largest of its kind in North America – brings upwards of 2,000 delegates from over 50 countries together to focus on topics like the circular economy, climate change, corporate sustainability and energy transformation. We also host an Innovation Expo alongside the forum that is focused on helping cleantech companies find partners and financing so they can scale and deploy their solutions.
In addition to our larger events, we hold smaller, more targeted roundtables and workshops where for example, we convene influential people or experts to engage around critical and more targeted issues such as building resilient infrastructure in a changing climate or removing barriers to catalyze the growth of Canada's cleantech industry. 
 We're always convening and trying to create opportunities that will move the dial, start dialogue, and drive action and commitments.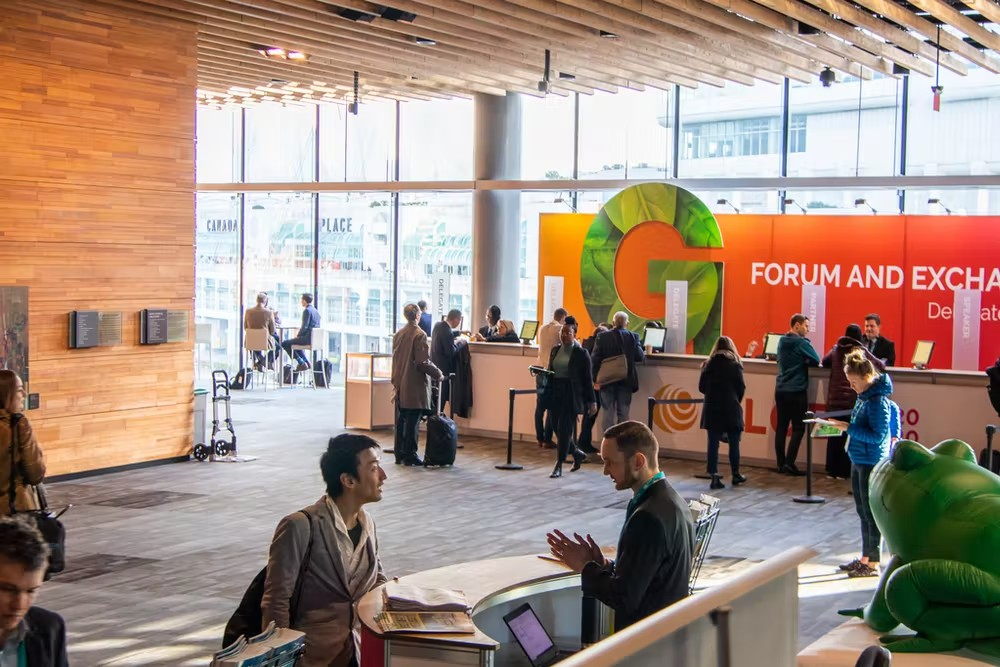 This year marks the 30th anniversary of GLOBE. How have meetings focused on developing the sustainability movement changed since GLOBE first started?
The core of meetings like GLOBE hasn't changed – it's always been about bringing people together to create dialogues, partnerships and new initiatives. What's changed is the sense of urgency.
Back in the 1990s and even into the 2000s, people were certainly getting together and talking about sustainability and climate issues. But the focus tended to be on developing an understanding of them. Now there's a much quicker pace and more direct effort to get to the heart of those issues and execute on solutions.
The way we run the conference has also changed a lot. In particular you're seeing a shift towards creating more inclusive conversation. In the past, a lot of our sessions were just talking heads who represented a very narrow demographic. We are now laser focused on including diverse perspectives, and the people we bring in represent a significantly greater range of backgrounds.
Have the types of people or industries attending GLOBE changed significantly over time?
If you go back 20 years, there was only a small group of companies and a small group of people within those organizations who even knew what the word sustainability meant (let alone the many aspects of it). Whereas now, there are many more people involved and these topics are often deeply integrated within many departments across all kinds of organizations, government and so forth. The conversation is much more open.
One great example is the finance sector. Back when I first started, there would be the odd sustainable investment firm in attendance at our events. Now we have the major pension funds, the banks, and insurance companies coming to GLOBE because of how critical these issues are. And our audience has expanded even further with large companies like Apple, Microsoft and Maple Leaf Foods looking for ways to reduce their environmental footprint even further and share their own innovations because they understand the importance of addressing these issues.
Why is it important to host summits like this and create opportunities for similarly driven corporate/government/youth leaders to engage with one another?
We've found that by bringing these different groups and people together, we can have more impact. That's where all of the interesting collisions occur that result in creative, unique solutions. When you can have someone who works in finance at a large resource company bump into another person from a not-for-profit and stimulate a conversation around an issue, that's where we find success.
What is one key learning from last year's event that has helped with the planning or execution of GLOBE 2020?
People want to be more engaged at the event and have a greater experience. And they're right - we're at a point in time where we need to really accelerate the momentum, empower people and provide them with a positive space to help achieve their goals.
We listened to the feedback from our last two events and wanted to show our attendees that we're making GLOBE 2020 our biggest and boldest event ever.
The first thing we did was move our event to the West building, after many years holding the event in the East building. The East is a great building, but moving to a double LEED® Platinum certified building is in line with what we're all about. The West also allowed us to physically bring the people and aspects of GLOBE more closely together under one roof, which encourages a lot of interaction with delegates.
At GLOBE Exchange, which takes place on the first day of this year's event, the focus is on curated matchmaking. We wanted to make sure that interested parties - government, investors, and community partners - could find the right people to do business with in cleantech. It's so much more effective than the old model of sitting in a booth and hoping for the right person to come by.
And then on the final day of the event, we are holding the first-ever GLOBE Advance. It's designed to be all about action and outcomes, and we hope it will help our delegates be part of the solutions to some of our biggest challenges.
What are you most looking forward to at this year's event?
The thing I look forward to most is the people. Whether it's listening to ideas, debating issues, coming up with new initiatives or seeing people engage with each other – and whether it's between old friends or they're connecting for the first time - you always see those light bulbs turning on and positive energy being shared. It's great.
Why have you chosen to have GLOBE in Vancouver and at the Vancouver Convention Centre for so many years?
Our values align, and that's very important to us and our attendees. Vancouver and British Columbia are leading jurisdictions on many of the issues that we're trying to address in these meetings. And they're always doing new things to raise the bar, which is great to showcase when international delegations come in.
The West building in particular is a perfect location for our event. Being double LEED® Platinum certified, it has features that demonstrate the exact type of solutions we're looking to promote. With the green roof, waste management processes and local food, it lines up very nicely.
On top of all that, it's also a beautiful city that's exciting to visit. You have the incredible views with mountains and the ocean, the sounds, the restaurants and all the activities. It's great value for those coming in and builds on the experience that GLOBE is striving to provide.
How do you see GLOBE and its goals for sustainable business evolving over the next decade?
I think we're going to see a continuation of this movement towards being more engaged in different, less-linear ways. People are going to continue thinking very differently about solutions and how they tackle problems – very systems-based thinking, I think - versus the more straightforward approach that we've seen a lot of in the past. And conversations will continue to be more and more sophisticated, with deeper dives into very targeted sustainability-related topics.
Beyond that, we're also looking at new business models that will drive down the environmental footprint of our events while ensuring plenty of opportunities for people to meet, engage and create new relationships and new ideas.
There's so much to explore, and it's very exciting to think about what's ahead.
Tags:
#legacy event
#west building
#10thanniversary
#globe series