Vancouver, BC (October 10, 2017) - The Vancouver Convention Centre is proud to announce that its iconic West building has been awarded LEED Platinum certification (version 4) for Existing Buildings: Operations and Maintenance by the Canada Green Building Council. Coupled with its 2010 Platinum certification for New Construction, the Vancouver Convention Centre is the first double LEED Platinum convention centre in the world.
Platinum is the highest level of LEED, or Leadership in Energy and Environmental Design, and version 4 is the newest version of the rating system, considered "the framework and benchmark for the next generation of green buildings."
"Congratulations to the Vancouver Convention Centre on attaining double LEED Platinum status. It is through achievements like this that we will enhance B.C.'s reputation as a destination of choice for national and international visitors, while providing a healthy, sustainable environment for all British Columbians," says Lisa Beare, Minister of Tourism, Arts and Culture.
This achievement was a result of a rigorous process to re-examine all areas of operations at the Convention Centre, including engagement with stakeholders, clients and retailers to identify opportunities for enhanced sustainable performance. Specifically, the facility earned its Platinum certification for excellence in the areas of: waste management, energy efficiency, indoor water use reduction, and facility maintenance and renovations among others.
"While the Vancouver Convention Centre was built to the highest environmental standard with features like our six-acre living roof, marine habitat and impressive green technologies, our commitment to the environment is more than the building, significant as it is," says Ken Cretney, President and CEO, BC Pavilion Corporation. "When we opened our West building, we set out to be a global leader in sustainability to make a difference in our community and global industry. I am extremely proud of our team for its dedication and hard work to further our sustainability program, resulting in this prestigious second Platinum designation."
"Congratulations to the whole team at the Vancouver Convention Centre for once again proving their leadership in sustainability by earning Canada's first LEED v4 Platinum Existing Buildings certification," says Thomas Mueller, President and CEO of the Canada Green Building Council. "Through the LEED v4 Platinum certification, the VCC team is ensuring that this world-class venue continues to be operated and maintained at the highest level delivering environmental and health benefits for years to come. At the same time the VCC is setting an example for convention facilities around the world while showcasing Vancouver's commitment to environmental excellence."
Developed by the U.S. Green Building Council, LEED is the most widely used green building rating system in the world. Available for virtually all building, community and home project types, LEED provides a framework to create healthy, highly efficient and cost-saving green buildings. LEED certification is a globally recognized symbol of sustainability achievement.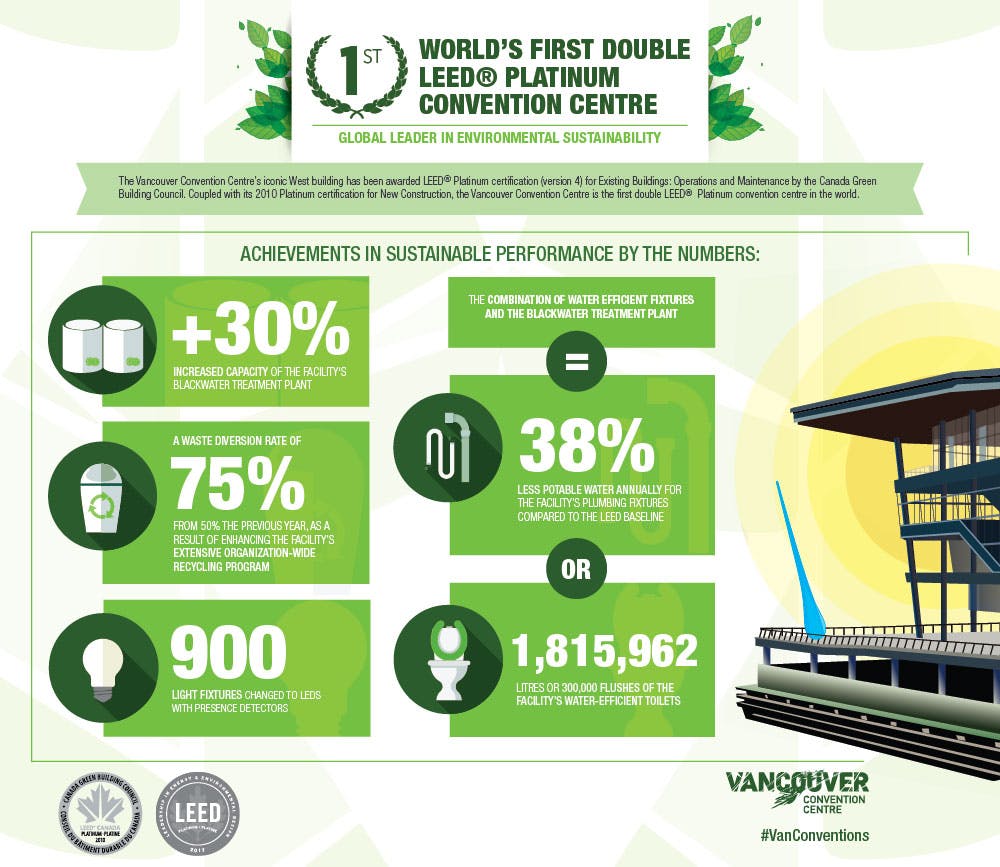 -30-
Editors: High resolution photos, video and infographic available here.
About the Vancouver Convention Centre
The Vancouver Convention Centre is the world's first double LEED Platinum certified convention centre. Located on Vancouver's downtown waterfront with a dramatic mountain backdrop, the facility offers one of the most beautiful settings in the world. The award-winning Convention Centre features two connected buildings with a combined total of 466,500 ft2 (43,340 m2) of flexible meeting, exhibition, ballroom and plenary space. The facility is committed to environmental sustainability as well as unparalleled service, technology offerings and culinary excellence.
Backgrounder
To achieve LEED Platinum certification (version 4) for Existing Buildings: Operations and Maintenance, the Vancouver Convention Centre introduced sustainability initiatives and enhanced existing programs. Highlights include:
Water Efficiency
The Convention Centre increased the capacity of its onsite Blackwater Treatment Plant by 30%. The combination of water efficient fixtures and the Blackwater Treatment Plant has made it possible to use 38% less potable water annually for the facility's plumbing fixtures compared to the LEED baseline. The potable water saved, 1,815,962 litres, is equivalent to approximately 300,000 flushes of the facility's water-efficient toilets.
Waste Management
The Convention Centre improved its waste diversion rate to over 75% from 50% the previous year. This was the result of enhancing the facility's already extensive organization-wide recycling program, which included rebranding all recycling bins and launching an educational program with staff, clients and retailers to increase the understanding of the types of material that could be recycled.
The Convention Centre created a Reclaim Room for items left behind from events for donation to local charities or community groups for repurposing. To date, goods have been donated to: Vancouver Public Library, Vancouver Orphaned Kitten Rescue Association, Vancouver Food Bank Society, Union Gospel Mission and social enterprises like Common Thread.
Energy Efficiency
The Convention Centre continues to switch to more efficient LED lighting in the facility to improve overall energy efficiency.
Materials and Resources
The Convention Centre updated and created new building policies that focus on sustainability, providing a foundation from which its team and suppliers can make environmentally-friendly decisions in day-to-day practices:
Facility Maintenance and Renovation Policy
Ongoing Purchasing and Waste Policy
Site Management Policy
Indoor Water Use Reduction Policy
The Convention Centre is the first facility in Canada and only one of two facilities worldwide to earn the Venue Level Four certification from the Convention Industry Council's Accepted Practices Exchange (APEX) and American Society for Testing and Materials (ASTM) – the highest standard for sustainability in the meetings and convention industry.