5 Simple Ways to Create a Sustainable Event at the Vancouver Convention Centre
October 19th, 2022 / Meeting Design
As one of the greenest convention centres in the world (and the first to achieve double LEED Platinum status), the Vancouver Convention Centre is proud to help clients plan and execute sustainable events.
Planning sustainable events can seem overwhelming. Common questions our clients often ask are: What materials can be recycled? How much is too much? Will all of these materials go to waste? How can we donate or properly recycle leftover items?
Whether you're planning an AGM, conference, or consumer show, here's how we can help:
Take a look at these helpful Pre-Planning Resources
We created a library of convenient resources for our clients to go through in the pre-planning stages to ensure sustainability is embedded into the vision of your event. Check out our resources below:
These documents keep environmentally friendly practices at the forefront with great tips and suggestions to consider.
Get to know our Sustainable Building Features
Sustainability is embedded into every corner of our building. The Vancouver Convention Centre uses state-of-the-art technology to support sustainable events, including:
On-site organic waste composter that breaks down the mass of organic waste by 70-80%.
Six-acre living roof with more than 400,000 indigenous species of plants and grasses which insulates our building.
Seawater heating and cooling system that reduces energy consumption.
Sophisticated black water treatment plan that cleans and recycles water used throughout the building for non-potable (not for drinking) uses such as for rooftop irrigation and toilet flushing.
Trust our Experience and Expertise
Did you know Vancouver's first audited zero-waste event was held at the Convention Centre? Our team has been a part of planning and executing countless sustainable events and are more than happy to discuss the tools we've used to measure recycling and energy consumption, as well as carbon offset options. We can guide you every step of the way, whether you're looking to achieve zero-waste or reduce your event's carbon footprint.
Some of our environmental best practices, are:
Actively using three-part bins during event set-up and around our facility to ensure garbage, recyclable materials, and organics end up in the right place.
Serving beverages in glasses or compostable cups instead of single-use plastic bottles.
Using fresh, local ingredients in the food we serve to reduce food miles.
Helping clients achieve more accurate estimates for food & beverage service to reduce the risk of over-production and waste.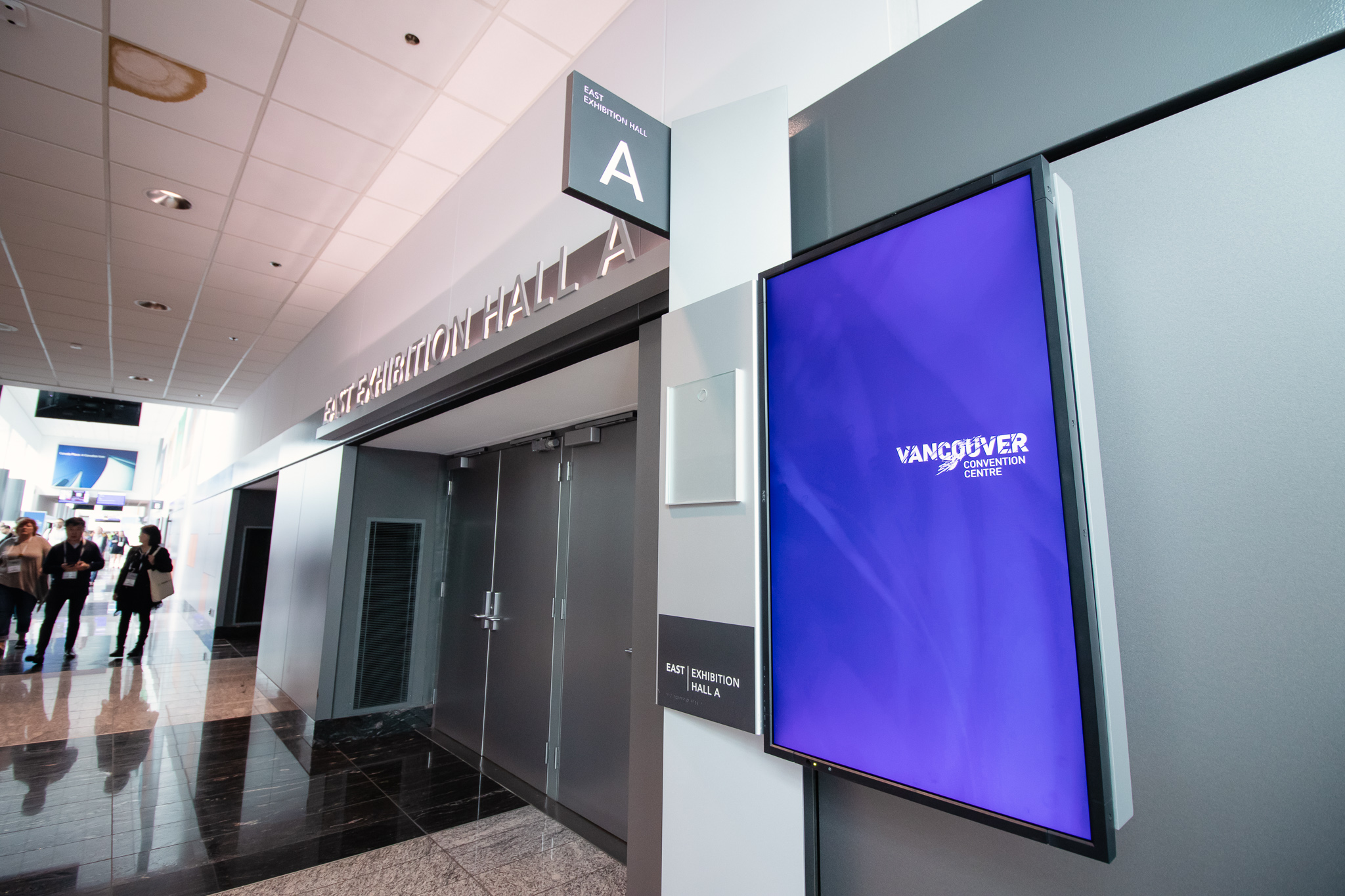 Think Outside the Box when making a Sustainable Impact
When it comes to event planning, we know that there are certain must-haves such as signage, flooring, branded merchandise, and giveaway items. Our team is ready to introduce you to sustainable suppliers or work with yours on reducing waste. For example, consider:
Using our digital signage and LED screens for other locations where there are no digital signs. If you must print, design your signage to be reusable or recyclable.
Focusing on high-impact! Many conferences and events have been shedding traditional, low-value items such as Delegate Bags, lanyards (encourage Bring Your Own Lanyard), and exhibit hall aisle carpet. This also frees up budget to invest in items or experiences that will wow your attendees and exhibitors, keeping them engaged and interested for years to come.
Reviewing what products can be recycled at the Vancouver Convention Centre with your team or exhibitors and consider submitting a materials checklist to help our team with managing any waste.
Planning a donation strategy. Decide ahead of time what items are worth shipping back after the show and make a donation plan for items that can't be taken back. Our Sustainability Team can advise on items that can be reused and recycled, and provide information on companies seeking donations.
Procuring with community in mind. As a Social Procurement Champion, the Vancouver Convention Centre has partnerships with many local social enterprises who can support clients with procuring community-based, ethically made gifts and other event items for delegates, or otherwise minimize waste by donating leftover items, materials, and food. Sharing your events community impact is also a great way to bolster the reputation of your organization.
Connect with Us!
Our team is very passionate about sustainability in events, and we would love to talk to you. Caring for the environment benefits all of us, and as a facility that hosts hundreds of events each year, we're more than happy to share our knowledge. Our team is always willing to advise on green practices to minimize waste production with clients and exhibitors.
For more information on our sustainability practices, contact us at sustainability@vancouverconventioncentre.com