Top ranking attributed to Vancouver's leading service industry
Vancouver, BC (August 4, 2016) – When international associations and corporations select cities in which to host their meetings, most rely on evaluations and recommendations from their industry colleagues – and the Watkins Research Group's biennial Meeting and Convention Planners Survey is considered the most comprehensive and authoritative source. This year, out of 40 North American cities the research group surveyed, Vancouver was ranked top convention city in Canada and second in North America – and it's all thanks to the dedication, professionalism and unity of the city's tourism and service industry.
Watkins' rankings are based on responses from nearly 900 industry planners and decision makers from around the world. Their collective positive evaluation of Vancouver showcases the city's global reputation as a leading meetings and conventions city, an impressive response given the competitive nature of the industry. The honours Vancouver were awarded in the survey include:
#1 for Client Advocate Score, a calculation indicating whether respondents would advocate or promote the destination to peers planning future events (the higher the ranking, the more advocates)
#1 for superior convention centre facilities
#1 for superior convention centre services
#1 for being a safe and secure destination
#1 for superior Convention and Visitors Bureau/Destination Marketing Organization
"Vancouver's impressive results are a testament to client dedication and to the pride the entire hospitality community has for their city," said Curt Watkins, founder of the Watkins Research Group. "Having personally just visited, I can see why clients completing this year's Watkins Research Group survey rated Vancouver so exceptionally high."
"Million Dollar Round Table met in Vancouver this past June, and we were blown away by the dedication, professionalism and welcoming nature of the city's hospitality community," said Ray Kopcinski, director of Meeting Services , Million Dollar Round Table. "The meeting achieved record attendance with close to 11,500 people, and a major part of that was Vancouver's appeal as a destination."
Not surprisingly given the results of Watkins report, visitation to Vancouver from business and leisure travellers alike is stronger than ever. Recently, the International Congress and Convention Association named Vancouver the top meetings destination in North America – one of many accolades the city has earned recently, alongside Skytrax's award for number-one airport in North America (the seventh consecutive year Vancouver International Airport has received the award, an unprecedented record); Best Destination in Canada, according to Travel Weekly's poll of more than 12,000 travel professionals; and TravelAge West's Editor's Pick Award for Canadian destination with the highest client satisfaction.
In celebration of the Watkins ranking and similar recent successes, Tourism Vancouver and the Vancouver Convention Centre have coordinated a social media campaign, including blog posts and a video, to thank the meeting professionals who completed the Watkins survey and awarded the city its top ranking, as well as the local hospitality industry without whom such successes would not be possible. To view the video, click here.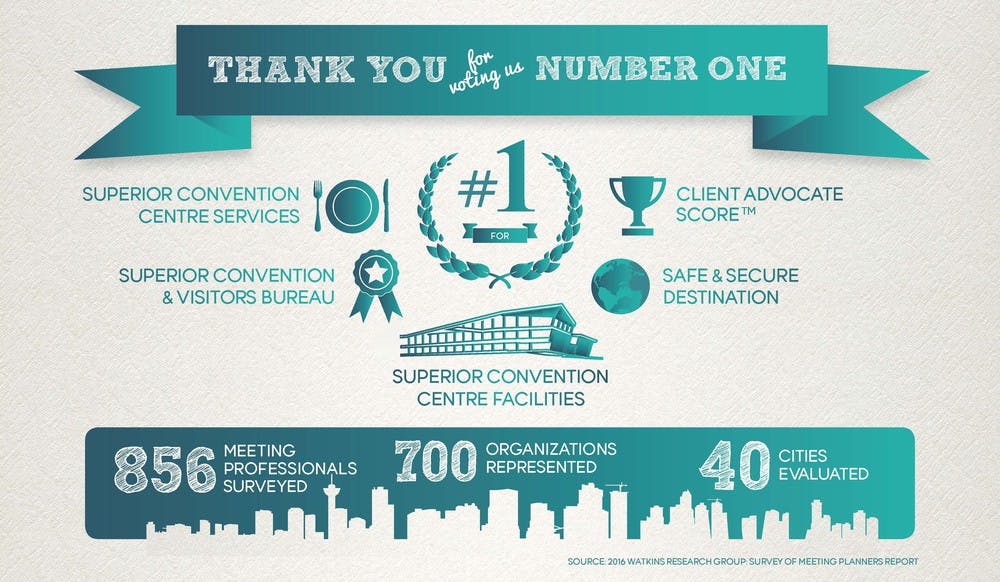 About Tourism Vancouver:
Tourism Vancouver is the official destination marketing organization for Vancouver, British Columbia, Canada. The not-for-profit, member-based organization represents over 1,000 tourism businesses in Metro Vancouver and beyond. Tourism Vancouver markets Vancouver as a premier leisure, business, meetings and group travel destination in strategic markets around the world. www.tourismvancouver.com
About the Vancouver Convention Centre:
Located on Vancouver's downtown waterfront with a dramatic mountain backdrop, the world's first LEED® Platinum certified convention centre offers one of the most beautiful settings in the world. The award-winning Vancouver Convention Centre features two connected buildings with a combined total of 466,500 ft2 (43,340 m2) of flexible meeting, exhibition, ballroom and plenary space. The facility is committed to environmental sustainability as well as unparalleled service, technology offerings and culinary excellence. www.vancouverconventioncentre.com
-30-